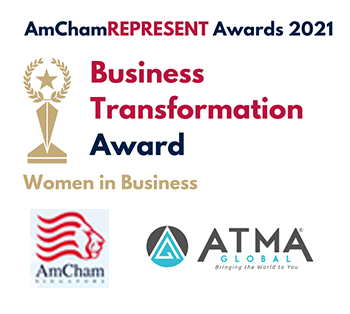 New York, New York—March 30, 2021—Atma Global, a leading-edge developer and publisher of innovative global learning solutions focusing on countries, cultures, and global business topics, was named the winner of AmChamREPRESENT Business Transformation Award 2021: Women in Business. 
Atma Global's founder and CEO Sanjyot P. Dunung was acknowledged for her entrepreneurship, extensive global expertise, and seasoned knowledge of the intersection of business, culture, technology, and education.  
The award recognizes her innovative leadership in designing the firm's new global learning video channel Atma Insights. This award-winning, reliable, and engaging proprietary digital streaming service helps professionals, educators, students, and global enthusiasts explore key international topics.  
The 2021 AmChams of Asia Pacific (AAP) Business Summit was hosted from March 9 to 11, 2021, in Singapore. This annual summit convenes business, diplomatic, and academic figures across the U.S. and Asia Pacific region to exchange business insights.  
Atma Global's CEO Dunung stated, "We are pleased to receive this acknowledgment of our global thought leadership work on helping professionals understand how to do business globally as well as assess the impact of cultures on business practices and operations. As we begin to prepare to move beyond this pandemic, it's essential for professionals and companies to be prepared to operate in a new business environment as global economies reopen. We designed Atma Insights to be a reliable, accurate, engaging, cost– and time–efficient learning resource for professionals." 
Atma Global is an award-winning developer and publisher of innovative global learning solutions focusing on countries, cultures, and global business topics. The firm's digital content has been used by almost three million users, including professionals in diverse industries in the global Fortune 1000 and in universities around the world. 
Atma Insights, a new digital subscription channel, enables users to experience proprietary curated learning on global topics and managing, negotiating, and conducting business across countries and cultures.  
Follow Atma Global: 
LinkedIn  | Twitter @AtmaGlobalMedia | YouTube  
About the AmChamREPRESENT Awards
American Chambers of Commerce (AmChams) are independent, nonpartisan business organizations across the globe. AmChams of Asia Pacific, comprising 28 AmChams in the region, provides information and facilitates the access and connections that give members insight into the local, regional, and global operating environment, enabling them to enhance their professional capabilities and make well-informed business decisions.  
About AmCham Women 
AmCham Singapore works to advance gender diversity and inclusion in the workplace and believes that empowering women fuels thriving economies in Singapore and the region.  
Contact:   
Liz Vukovich