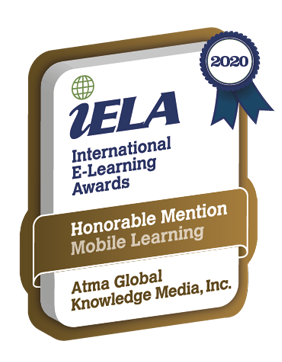 New York, New York—June 16, 2020—Atma Insights won an Honorable Mention for Mobile Learning in the 2020 International E-Learning Awards, Business Division.  
The International E-Learning Association (IELA) is dedicated to advancing the knowledge and practice of e-learning in the classroom and the workplace. With members hailing from every continent—and from the realms of business, industry, government, and academia—the IELA is a vibrant and diverse community of e-learning professionals, researchers, and students. Awards were presented during a live awards event on June 12th.   
Atma Insights was acknowledged as a new innovative digital learning channel, which showcases proprietary analysis on global business content. Soon it will cover all of the G20 countries, representing 80% of world trade.  
Sanjyot P. Dunung, Atma Global's CEO, stated, "We are pleased to receive this acknowledgement of our new learning channel for global business professionals, business educators, and students. We are committed to helping professionals understand how to do business globally as well as assess the impact of cultures on business practices and operations. Notwithstanding the current health and economic crises, businesses need to be prepared to operate in a new business environment as global economies reopen. We designed Atma Insights to be a reliable, accurate, engaging, cost– and time–efficient learning resource for professionals." 
Atma Global is an award-winning developer and publisher of innovative global learning solutions focusing on countries, cultures, and global business topics. The firm's digital content has been used by almost three million users, including professionals in diverse industries in the global Fortune 1000 and in universities around the world. 
The firm's Cultural Advisory Services provides thought leadership and assists global institutions in achieving their global business objectives and enhancing profitability.  
Atma Insights, a new digital subscription channel, enables users to experience curated business learning on topics including managing, negotiating, and conducting business across countries and cultures.  
Contact: Communications@www.atmaglobal.com
Follow Atma Global: LinkedIn | Twitter @AtmaGlobalMedia | YouTube  
About the IELA Awards
The International E-Learning Awards are given each year for the best work in e-learning, mobile learning, and blended learning, in two divisions: Academic and Business/Industry. All submissions are evaluated by the IELA Awards Committee, which looks for a variety of attributes. These include, among others, educational soundness and effectiveness, usability, and overall significance.