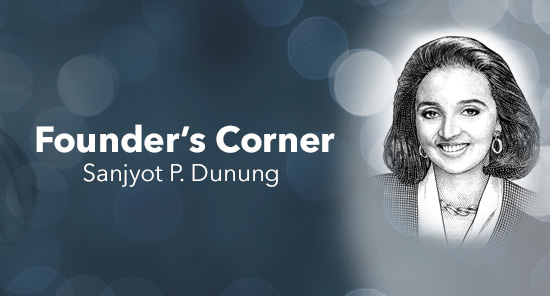 Message from Our Founder: Sanjyot Dunung – Looking Ahead to 2022
Thank you for being part of our 

ATMA

INSIGHTS

 global community.
Hello,  
A new year has begun. Already it's clear that 2022 is starting as it began: with uncertainty. 
Uncertainty has become a recurring theme in our world. The coronavirus is, of course, upending the best-laid plans. Offices around the world are once again delaying their plans to reopen. Inflation is rising around the world. Supply-chain issues continue to jam up global trade. All of this perpetuates a cycle of unpredictability. 
It's tempting to offer predictions, but the last two years have, at a minimum, shown us that we are living in unpredictable times. 
While we can't predict the future, we know that our world remains intertwined. When it comes to supply chains, Covid, climate, geopolitics, and more, we find ourselves debating priorities and the global rules of the road. What's less clear is how globalization will operate when not all countries agree about these rules and priorities—which complicates how businesses can function efficiently across and within borders.  
I think that our best way of navigating uncertain times is to keep exploring and learning, even if digitally for now.  
Ever the optimist, I think it's becoming increasingly clear that we need to keep fine-tuning our personal and professional toolkits. Staying nimble and flexible helps us respond to the array of known unknowns and unknown unknowns—aka the black swans. 
Whether we're advising institutions on the impact of culture on the intersection of business, countries, and global affairs or working with educators and professionals on lifelong learning, we know more than ever that access to accurate, balanced information and knowledge is essential. You can read more about our Atma approach, which integrates a distinctive blend of accurate facts and analysis infused with our unique content methodology, philosophy, and editorial approach. Our Content Methodology – Atma Global 
We recognize that as institutions transform globally, they are often hiring social scientists to guide their understanding of an international market, either by geographic region or by culture. Our team operates at the intersection of business, global affairs, and culture, utilizing education and technology to transform how professionals, educators, and students equip themselves with critical, accurate, and unique insights. 
I'd be remiss if I didn't mention the pride our dedicated team has taken in the four awards—including Gold and Bronze Stevies—that we've won for our new digital streaming service: Atma Insights: A new way to learn about the world. Take a closer look at our expanding library of learning videos and see why our users and the judges find that Atma Insights is unique with content you won't find elsewhere. 
There is much work ahead as the world continues to reemerge from the global pandemic. We look forward to continuing to be your reliable global resource and guide.  
I welcome your feedback, ideas, and suggestions.  
Wishing a better and brighter new year for all! 
Sanjyot
Sanjyot P. Dunung
Founder & CEO, Atma Global